GraFX Saver Pro, combined with your imagination, images, video, and audio makes it easy to create professional screen savers in record time! Unlike all the other products that allow you to use only 3 or at most 4 media formats, GraFX Saver Pro supports over 20 image and video formats! It also supports all popular audio formats (MP3, WMA, WAV, MIDI, AIFF, SND, etc.) for background sound. GraFX Saver Pro makes it easy to create video screen savers, music video screen savers, photo screen savers, company screen savers (displaying company logos, for example), presentations, tutorials, and much more.

The screen savers you create with GraFX Saver Pro are 100% royalty-free, and absolutely no programming is required. Download your copy now to find out how easy it is to make a screensaver!



Key Features

GraFX Saver Pro's advanced features include the following:

Powerful, yet easy to use screen saver maker software
Create screen savers from all popular image, video, and audio file formats
Supports over 100 special effects
Provides complete control of size, order, transition, display time, background, and more
Enables quick and easy creation of trial version (shareware) screen savers to sell or freeware screen savers to give away
100% royalty free
Creates professional installation for screen savers, which makes installation and setup easy for end users. An uninstaller is also included for screen savers created.
Create auto-run screen saver CDs.
Zip and mail screen saver creations

GraFX Saver Pro - Fast and easy to use, yet powerful screen saver maker software - create screen savers in minutes!




Current Version: 4.0
Release Date: 01/15/2005
Download File Size: 4.09 MB
Price: $75




System Requirements:

Pentium Class 500 MHz processor or better
Windows® 95/98/NT/2000/ME/XP
64 MB RAM
30 MB HD
SVGA or higher resolution display at 800x600 or better
Mouse (recommended)
Keyboard



Additional features include the ability to preview image effects, complete drag and drop support, advanced zoom capabilities, and many customization options.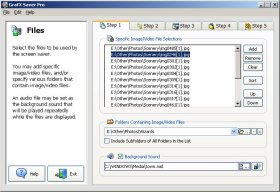 Some of the image formats supported include BMP, JPG, GIF, PNG, EMF, WMF, DIB, PCD, PCX, PSD (single layer), PSP (single layer), TGA, TIF, and more. The supported video formats are AVI, MPEG-1, WMV, ASF, and (if QuickTime is installed on the end-user system) MOV. GraFX Saver Pro supports MP3, WAV, WMA, MIDI, RMI, SND, and AIFF for background sound.
Professional Screen Savers Made Easy
You can create professional screen savers quickly and easily by selecting each tab on GraFX Saver Pro's intuitive interface. Start with Step 1, Files, to select the individual image and video files or the folders you want in your screen saver. You can also select an audio file to use as background sound. Go to Step 2, Effects, to choose from over 100 special effects for displaying files. Step 3, Behavior, allows you to customize your screen saver further. You can control how image and video files are displayed and in what order and apply various functionality settings. The next tab, Step 4, Protection, gives you the option to protect your screen saver, provide a trial version, create unlock codes for end-users, and enable online purchasing for your created screen savers. Finally, choose Step 5, Publish, to build your screen saver installation package.
---
---