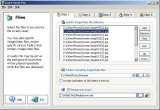 GraFX Saver Pro is both a photo and video screensaver maker application. It allows you to use your own images, video, and audio to make professional screen savers in record time. You can make music video screensaver, slideshow screensavers, tutorials, company logo screensavers, and much more.
Use over 120 special effects to give your screensaver creations a professional look. The software makes easy to use installers for the screen savers made, and also allows you to create trial version screensavers in minutes, including a configurable trial period, generating of unlock codes for the screen savers created, providing a link address that can be used to purchase the screen saver, and much more.
Click here for more information on GraFX Saver Pro and its screensaver maker capabilities!
Current Version: <% Response.write(objXMLdoc.documentElement.selectsinglenode("Program_Info/Program_Version").text )%>
Release Date: <% Response.write(objXMLdoc.documentElement.selectsinglenode("Program_Info/Program_Release_Month").text +"/"+ objXMLdoc.documentElement.selectsinglenode("Program_Info/Program_Release_Day").text+"/"+objXMLdoc.documentElement.selectsinglenode("Program_Info/Program_Release_Year").text )%>
Download File Size: <% Response.write(objXMLdoc.documentElement.selectsinglenode("Program_Info/File_Info/File_Size_MB").text)%> MB
Price: $75
System Requirements:
Pentium Class 500 MHz processor or better
Windows� 95/98/NT/2000/ME/XP
64 MB RAM
30 MB HD
SVGA or higher resolution display at 800x600 or better
Mouse (recommended)
Keyboard